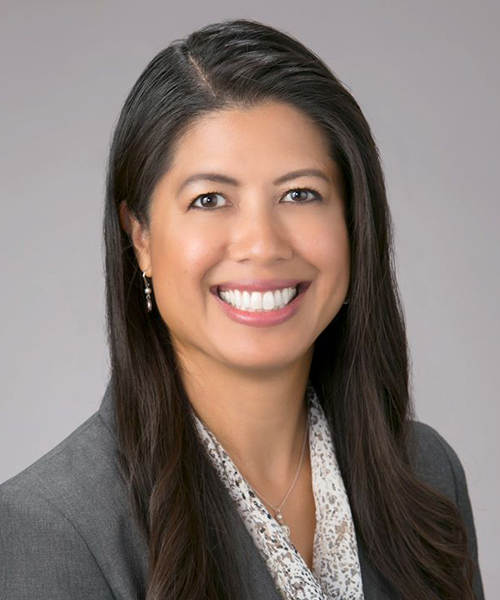 Celina Taganas-Duffy
Acting Board Chairperson / Vice-Chair

Celina T. Duffy is CEO and Founder of Tagline Communications, a boutique creative agency specializing in brand strategy, graphic design, website development, and advertising. Celina founded Tagline Communications, Inc. in 1995, after years of freelancing for top advertising agencies and is inspired to help people and businesses grow and develop through the use of effective visual communications. She understands the value of impactful, branded aesthetics that engage customers with streamlined functionality and visually intuitive, appealing graphics. Over the last 25 years, Celina has had the opportunity to work with a wide range of organizations, from Startups to Fortune 500 companies. Her experience includes projects for the City of Los Angeles, Smithsonian Institution, The White House, USC Pacific Asia Museum, City of Los Angeles Department of Cultural Affairs, City of South Pasadena, LA Playwrights' Arena, National Coalition for Asian Pacific American Community Development, FilAm Arts, Los Angeles County Department of Mental Health, Starwood Resorts, Hilton, Mitsubishi, Deluxe Entertainment, Company 3, Picture Shop, and Epson.
As an educator and speaker, Celina served as a panelist for ArtCenter's Designmatters AAPI Heritage Month Toyota Motors Corporation Endowed Series and guest educator for ArtCenter's graphic design studio class in partnership with Cedars-Sinai Research Center for Health Equity, showcased Filipino Martial Arts for the Philippine Consulate General's National History Month Celebration, and was selected as a Keynote Commencement Speaker for CSU Fullerton's Pilipino Graduation Celebration. She also has been featured in the U.S. Small Business Administration Annual Report, highlighted as a SCORE Success Story, profiled in Inside Kung Fu Magazine, and awarded a U.S. Patent. Previously, she received funding from the Smithsonian Institution to produce a multimedia art exhibit entitled, "I Am Today's Filipino," which documented the stories of 100 Southern California Filipinos, and was selected to create the Asian-Pacific Islander American Heritage cultural guide calendar for the City of Los Angeles Department of Cultural Affairs. Celina has received recognition from multiple public agencies and officials for her artistic contributions. Aside from her multiple design and creative projects, Celina is passionate about the arts and loves spending time with her family.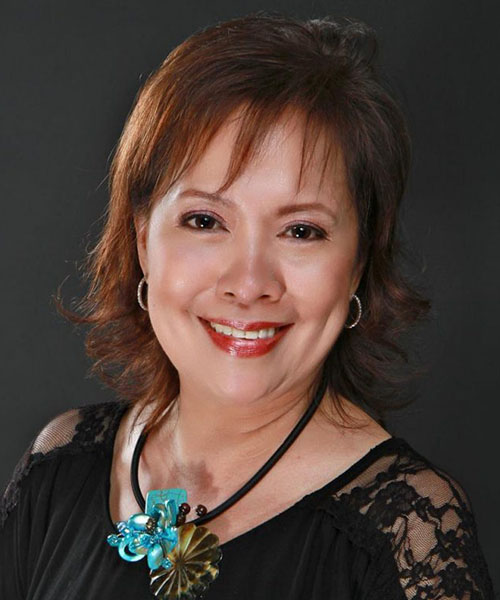 Ermelinda "Mae" Abeleda
Board Treasurer

Ermelinda "Mae" Abeleda is highly qualified in accounting, auditing and financial management of Federal, State, and local grant funds. She served as the Departmental Chief Accountant of the Los Angeles City Community Development Department (CDD) for 19 years (1991-2010). She directed staff in processing billings and payments to over 300 community based agencies and contractors, as well as payroll processing of over 400 CDD employees. She also directed staff in preparing the budget and monitoring budget control and compliance. In addition, she directed Audit staff in auditing financial records of contractor agencies to determine compliance with general auditing principles, financial management of grant funds, and contractual obligations. She retired from the City of Los Angeles after 29 years of public service, where she also worked as Auditor for the Social Services Department and Los Angeles Convention Center. Mae has served as the President of the Los Angeles Municipal Accountants & Auditors Association and is an active member of the City of Los Angeles Pinoy Retirees.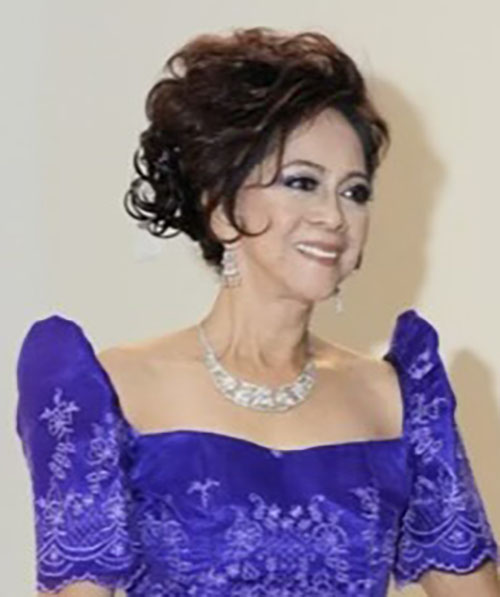 Cora Aragon Soriano
Board Secretary

Cora Aragon Soriano has an active and varied background in community service. She believes that by contributing her abilities towards the greater good of her community, she can make a difference. Cora's organizational, leadership and speaking abilities have enabled her to serve as Mentor, Governor, President, Servant Leader, Board Member, and Fund Raising Events Chair.
Cora is currently serving as a member of the Board of Directors for: Los Angeles Philippine Women's Club, President; Filipino American Community of Los Angeles (FACLA), Secretary; Filipino American Service Group, Inc. (FASGI), Secretary
Filipino American Business Association of Glendale/Greater LA Area, Asst Treasurer, UE Global; LA Maharlika Lions Club, Director; and LA-Makati Sister Cities, Director
Cora has served as a Senior Citizens Commissioner, City of San Dimas, for six years;
Past President of LA Maharlika Lions Club, Past President of St. Paul's Alumni Association, and Past President of Los Angeles Filipino Association Employees for three years. She was District 52 Governor from 2007-2008, Toastmasters International, overseeing over 100 business and community clubs from Downtown Los Angeles to the Santa Clarita Valley. Toastmasters has recognized her work with various awards.
She has received numerous community service awards from LA City Council, LA County Supervisor, Toastmasters International, and community organizations including the Filipina Women's Network (FWN) "100 Most Influential Pilipina Women in the US, " and the Melvin Jones Fellowship Award from Lions International.
Cora serves as a lector at the Holy Name of Mary in San Dimas and Mistress of Ceremonies at various events. She has three grown children and lives in San Dimas, CA.
"SHINE! Make a Difference"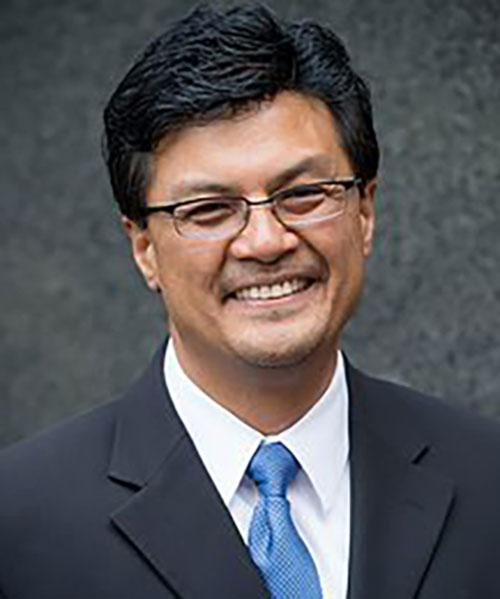 Dr. Cris B. Liban, P.E.
Board Member, Former FASGI Board President

Dr. Cris B. Liban, P.E. is the Los Angeles County Metropolitan Transportation Authority's (LA Metro) Chief Sustainability Officer (CSO). Cris oversees LA Metro's internationally recognized Environmental, Sustainability, and Energy initiatives. He prides himself to be one of the handful of engineers who holds this very important position. As CSO, Cris' responsibilities are also unique as he sets the environmental, sustainability, and resiliency vision for the agency while oversees the implementation of programs to fulfill that vision. His group has been one of the profit centers in LA Metro, generating over $100M of revenue in the last three years through monetized environmental benefits and reinvesting those into sustainable infrastructure.
Cris is currently a Commissioner in the City of Los Angeles Board of Transportation Commissioners (appointed by LA City Mayor Eric Garcetti); as well as the Vice-Chair of the Los Angeles County Beach Commission (appointed by LA County Supervisor Sheila Kuehl). He previously held political appointed positions in the State of California as a member of the Climate Safe Infrastructure Working Group, and as an adviser to the US Environmental Protection Agency's (USEPA) Administrator (Obama and Trump Administrations) as a Council Member of the USEPA National Council for Environmental Policy and Technology (NACEPT). He recently got appointed by CA State Treasurer Fiona Ma to sit on the Green Bonds Development Committee and develop Green Bonds Standards for the State of California.
Dr. Liban is currently the American Society of Civil Engineers National Committee on Sustainability Chair. In that capacity, he is overseeing the development of an international standard for sustainable infrastructure, a manual of practice for the incorporation of climate science into engineering practice, a manual of practice for green procurement.
Dr. Liban has also been the Chair or Member of multiple National Academies of Sciences Transportation Research Board research projects that continues to tackle emerging and timely topics on social equity and climate, climate change impacts, greenhouse gas emissions reduction strategies, life-cycle and cost framework, and sustainable transport funding and financing.
Cris is the recipient of the 2020 Engineering News Record (ENR) Award of Excellence (AOE) for his work on environmental science, climate change, and environmental equity (https://www.enr.com/enr-award-of-excellence). In 2016, he was the recipient of the 2016 Pamana ng Pilipino Award from Philippine President Rodrigo Duterte. This is the Philippines' Highest Civilian Honor for Filipinos living overseas.
He has degrees in geology (magna cum laude), civil and environmental engineering, and environmental science and engineering.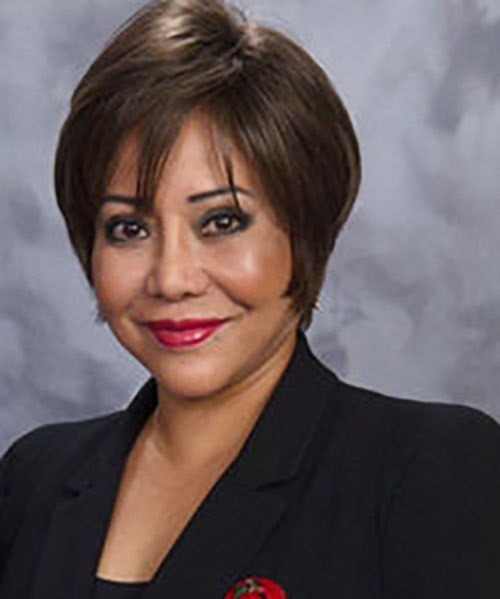 Josie Jones has been regarded as someone who is clearly in the business of caring. Caring has always been the guiding light in the life and career. She has devoted almost her entire adult life to caring for patients, fellow nurses and the community.
Josie has helped thousands of patients in various hospitals in the United States as a highly trained and experienced nurse. She helped introduce the basics of a nursing career to hundreds of nursing students in the Philippines as a former nursing instructor. She has helped thousands of Filipinos through scholarships, medical missions, cultural awareness campaigns and other volunteer works as a dynamic community leader. She helped hundreds of nurses get training and employment as home health nurses while ensuring compassionate and quality health care to hundreds of patients. Caring is also the driving force behind the three home health companies that Josie Jones owns and manages — Admiral Home Health Inc., Admiral Hospice Care Inc. and Alpha Hospice Care.
Admiral Home Health, which Ms. Jones established in 1998, offers a variety of services including skilled nursing, physical therapy, occupational therapy, diet counseling and nutrition, medical social services and speech therapy. The company also provides medical supplies and equipment, and home health aide services for those who need assistance around their household. Admiral Home Health prides itself in having licensed medical physicians and health care professionals employed full-time on its staff, unlike other home health agencies that rely on outside sources for most of the management and supervision of its service providers.
Ms. Jones established Admiral Hospice Care, Inc. and Alpha Hospice Care in 2003. To date, Admiral Hospice Care is one of the most reputable hospice facilities in California, servicing more than 40 terminally ill patients and their families. As CEO and Administrator of Admiral Home Health, Inc., Ms. Jones fulfilled her goal of personally providing skilled nursing services to patients while providing gainful employment to her colleagues in the home health care industry. The facility currently extends services to more than 300 patients in the greater Los Angeles and Orange counties, with specialization in wound care and diabetes management. There are nearly 100 fully credentialed healthcare professionals currently employed by Ms. Jones.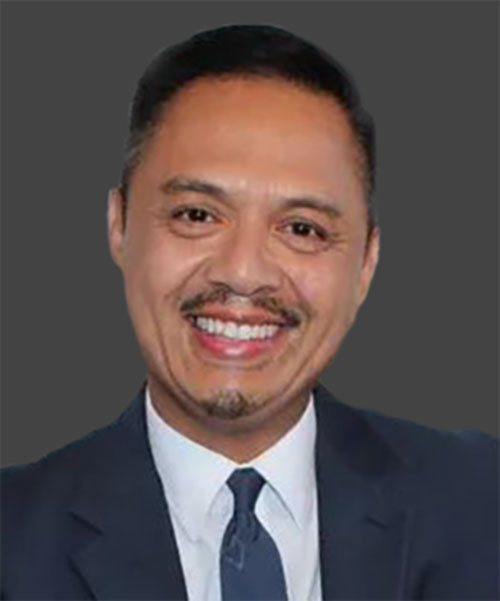 Ferdinand "Bong" Soriano
Board Member

Ferdinand B. Soriano is the Founder of Planet63, an export marketing and logistics management company specializing in creating sales opportunities for Philippine and US made products. His expertise includes telecommunications, media, real estate, retail, banking, nutraceutical manufacturing and logistics companies, and has worked with Los Angeles Magazine, Wells Fargo, JP Morgan Chase, American Pacific Container Lines and QVC.
Ferdinand hosted the podcast, "Philippine Products Redefined by Planet63" and the virtual business matchmaking show, "From Local To Global". He is a current fellow with Cal State University San Bernadino's Global Access Program, member of the Fil-Am Chamber Tri-County, Vice-President of Events for the Filipino American Chamber of Commerce for the greater Pasadena area, and past President of Pangasinan Brotherhood USA.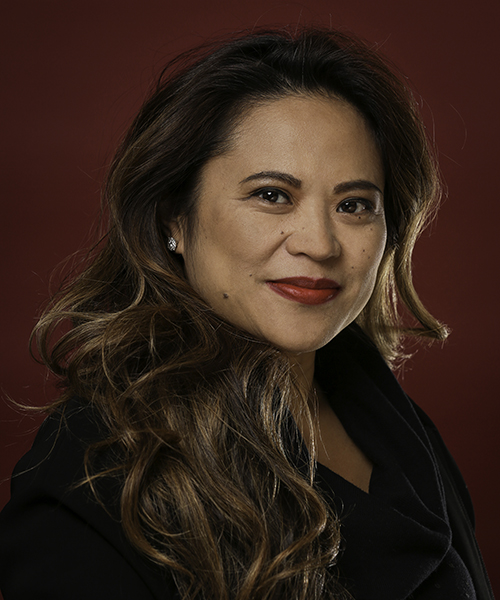 Ranzel "Ronnie" Cross
Board Member

Ranzel P. Cross is the Event Manager at Southern California Edison (SCE), one of the nation's largest electric utilities, where she manages strategic corporate events that facilitate and expand external partnerships and collaborations between Edison International and SCE with commercial businesses, government officials, non-profit organizations, educational institutions, and community-based organizations.
Ronnie has over 27-years' experience working in the utility, customer service, sales, and education industries managing department budgets, expenditures, budget forecasting, purchasing, capital budget planning, data requests, resource planning, fleet maintenance for over 60 vehicles, staff training, safety implementation, coordination of regional events and golf tournaments, and project management.
She enjoys giving back to her community and serves on SCE's Employee Contributions team, an employee-based volunteer, fundraising and community outreach team where she helped to raise over $610K for over 50 non-profit organizations in four years. She has also served on SCE's Work Environment team, which promotes a sense of purpose and inclusion, fosters closer working relationships between employees and managers, recognizes employees, boosts morale, motivation, and teamwork, encourages feedback and suggestions, supports operational and business efficiency, and improves communication.
Ronnie earned an MBA from the University of La Verne and a BS in Business Management from the University of Phoenix. She has won and been nominated for multiple awards at SCE for being a customer champion, chairman's award, demonstrating values and guiding behaviors, exceptional customer service, outstanding work, and excellence.
She enjoys traveling, spending time with family and friends, and trying new cuisines.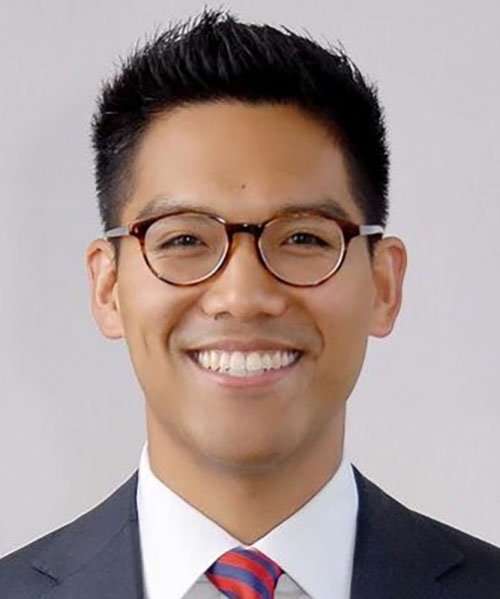 Dr. Carlos Irwin A. Oronce
Board Member

Dr. Carlos Irwin A. Oronce is a General Internist and Fellow in the Advanced Health Services Research Fellowship at the VA Greater Los Angeles Healthcare System at the UCLA David Geffen School of Medicine. He is pursuing a Ph.D. in Health Policy and Management at the UCLA, Jonathan and Karin Fielding School of Public Health. His research spans racial and ethnic disparities in health outcomes and quality of care, evaluating the impact of policies and interventions to address the social determinants of health, and understanding the impact of value-based models of care for under-resourced patients and communities. Dr. Oronce is the President-Elect for the Filipinx/a/o Community Health Association also known as Fil-CHA. He is the author of the recently published opinion piece in STAT News, entitled, "Health disparities for Filipinxs in health care are disguised by data aggregation".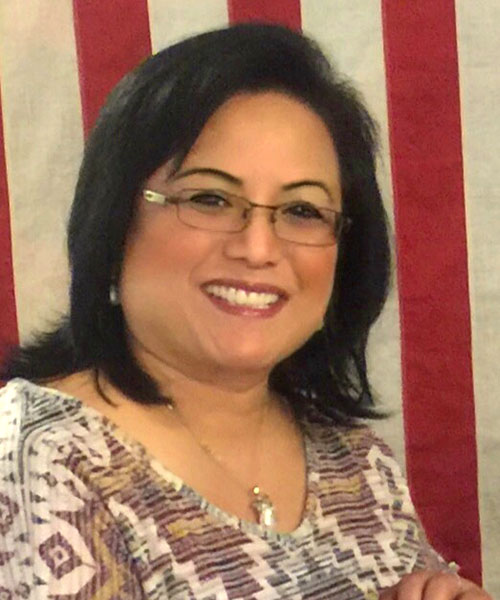 Yey Coronel
Executive Director
Yey Coronel is a service-dedicated leader with an extensive community involvement that provides her with a unique multi-and inter-cultural experience. She was the first Filipino American to be featured for naturalization by Los Angeles Mayor Eric Garcetti at his 2016 State of the City Address. Prior to working at FASGI, Yey worked in corporate management and held various positions for the City of Los Angeles, including Assistant Deputy Mayor for Mayor Richard Riordan; and Director of Housing & Community Development and Liaison to the Asian American Community for Mayor James Hahn. Her vast experience spans over four decades in grants management, housing and urban development, economic development, homelessness, community development, human and social services, legislative analysis, contract negotiation and real estate.

Ethel Provido
Program Director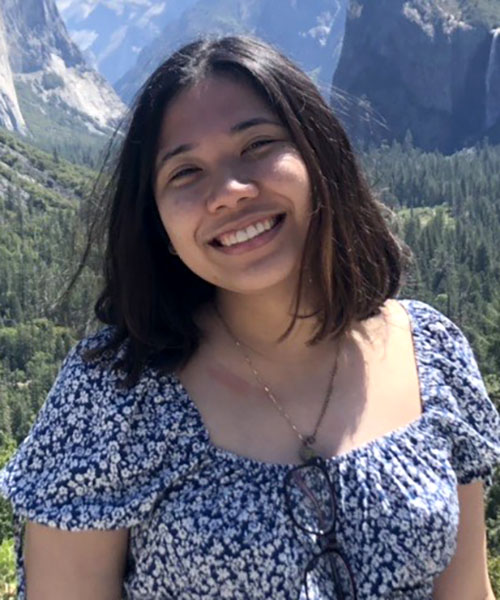 Ashley Jane Balcita
Program Assistant
2021 Banaag Award Recipient

FASGI is the recipient of the 2021 Banaag Presidential award, This award is conferred on Filipino individuals or organizations for their contributions which have significantly benefited a sector of the diaspora, or advanced the cause and interest of overseas Filipino communities.
2019 LA County Board of Supervisors Award

Los Angeles County Board of Supervisors awards FASGI for Asian Pacific Heritage Month 2019 in recognition of dedicated service to affairs of the community and for the civic pride demonstrated by contributions for the benefit of all the residences of Los Angeles County.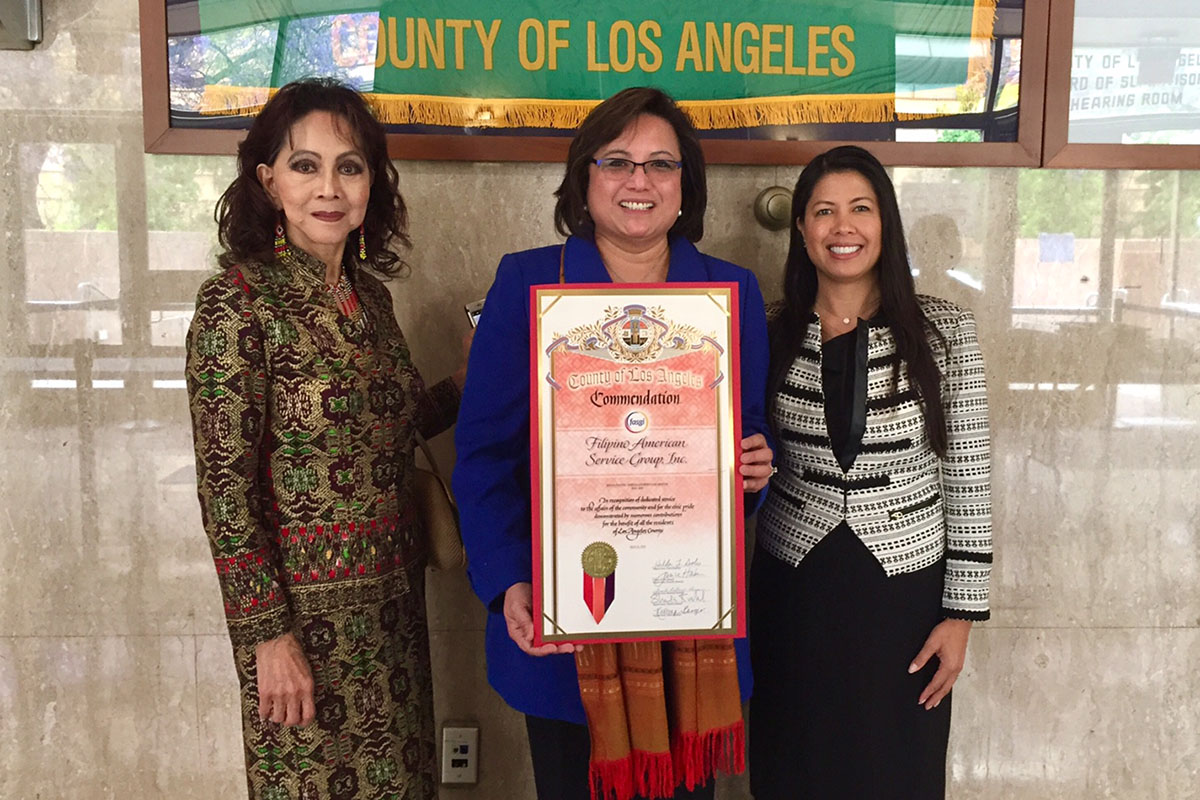 Hello, my name is Carlos Santos.  Thank you, FASGI, Mam Yey Coronel, and staff, for the support, therapy, and guidance you've given me.  Without FASGI, I do not know where I would be today. I am a victim of human trafficking and have lived without hope and in fear for many years.  Because of FASGI, I have the tools necessary to cope with the trauma I have endured. They've given me hope for my future and taught me that my past does not define me. Thank you, FASGI, for the hope you have given my family and me!  I pray you will continue to give others the same hope. Thank you again, and may God Bless FASGI.
—Carlos Santos, Human Trafficking Survivor
I'm a very independent woman and as long as I can do it, I will do it. I have tried to learn how to use Zoom and a computer because I like to learn new things. When the pandemic started, I frequently felt depressed and lonely at home but because of FASGI I have something to look forward to each week. The Healthy Perspectives and Happy Hour sessions makes me feel busy and the usual group makes me feel a sense of community online. I look forward to seeing the students, learning something new with each guest speaker, and keep my body moving. I'm thankful for FASGI because they were able to make me feel a lot better and less socially isolated through the pandemic.
Although I don't have family here, now I know that I have extended family. You lighten my light everyday during this pandemic.
—Ofelia Legaspi, FASGI Healthy Perspectives Participant
Before the pandemic, I was very depressed in staying at home…I was very sick, and I always called my doctor. They said I'm not sick. When I was invited to this program, I became alive.
—Largrimas Pardilla, FASGI Healthy Perspectives Participant
The pandemic has made me so lonely at home… I had nothing to do until I joined this program.
—Lilia Fos, FASGI Healthy Perspectives Participant
…we've done cancer talks and webinars with them where a few healthcare workers and doctors from Cedars-Sinai Cancer would come and speak on the topic. And a favorite thing about FASGI that I like is knowing how close and tight-knit they are with the community that they serve. They're so generous and very giving in regards to their time and energy, which I really appreciate. And I think they've really been successful in providing services virtually especially during this pandemic and they really just give a welcoming space to the community that they serve. 
—Shenazar Esmundo, Filipino Outreach Coordinator,
Cedars-Sinai Cancer Research Center for Health Equity
We would like others to recognize the tireless dedication and effort that FASGI and FASGI Staff does to serve the Filipino community…. Their quick mobilization [during the pandemic] in transitioning programming to an online format has proven that FASGI is a resilient organization committed to serving the community despite adversity. We are impressed and truly grateful that they have fostered a sense of community amongst their members and ours, despite operating nearly entirely remote during the pandemic. We are excited to work with FASGI in the future and hopefully under in-person circumstances. FASGI truly is an inspiration to our organization and will remain so for generations to come.
—Pilipinos For Community Health (PCH), University of California, Los Angeles (UCLA)
We would like others to recognize the tireless dedication and effort that FASGI and FASGI Staff does to serve the Filipino community…. Their quick mobilization [during the pandemic] in transitioning programming to an online format has proven that FASGI is a resilient organization committed to serving the community despite adversity. We are impressed and truly grateful that they have fostered a sense of community amongst their members and ours, despite operating nearly entirely remote during the pandemic. We are excited to work with FASGI in the future and hopefully under in-person circumstances. FASGI truly is an inspiration to our organization and will remain so for generations to come.
—Pilipinos For Community Health (PCH), University of California, Los Angeles (UCLA)